Kids Shower Curtain Facts
Every parent wants the best for their child, and a lot of thought and consideration must go into ordinary household items like shower curtains. You have to think about issues like safety, cleanliness, allergies, and other factors which must be kept in mind when dealing with children. Here are a few facts about kids' shower curtains for parents.
Shower Curtain Rods and Grommets
If you have young children you might know that ordinary household items must be extra sturdy and reliable. Your shower curtain is another area to consider. Those little hands can prove to be surprisingly strong, ripping curtains off of shower bars and sometimes maybe even tearing the whole bar down—especially if your shower bar slips off of walls easily. The answer to this type of dilemma can be easily accounted for, all you have to do is buy a shower curtain with metal grommets. These grommets will keep the material from tearing off of the shower rings. If you are having issues with your shower bar try gluing rubber shelf lining to the ends with contact cement or two-part proxy.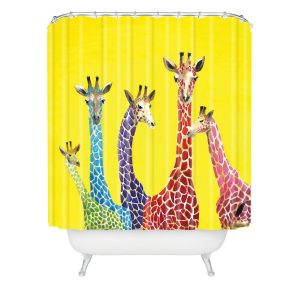 Washable Shower Curtains
Most cloth shower curtains, such as polyester, cotton, and linen, are easy to clean. Children love to play in the mud and get sticky and dirty, as most parents already know. Having a shower curtain that you can just toss in the washer makes it easier to keep a clean home. Cloth shower curtains are also generally mold and mildew proof and they can be easily attached to your curtain liner. For children it is recommended that you use vinyl or PVC which are generally quite durable and inexpensive. These may also be washed, but they are not as easy to clean (by throwing them in the washing machine) as fabric shower curtains. It is also possible for you to wash shower liners whenever they begin to accumulate mildew or soap scum either by spot-treating, hand washing, or machine washing.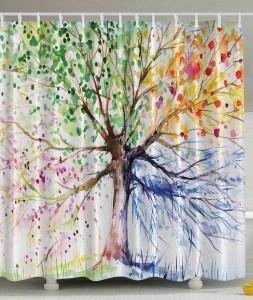 Shower Curtains and Allergies
Plastic curtains, such as vinyl, have caused symptoms such as vomiting, nausea, headaches, asthma, and allergies due to off-gassing. These reactions are caused by chemical sensitivity issues. The easy solution, generally, is to simply opt for fabric curtains (such as nylon) rather than plastic ones. Be forewarned, however—fabric curtains are also frequently treated with chemicals in order to ward of mildew, but they are thought to be less harmful. On the other hand, mold can also trigger allergies and other health issues. The best thing you can do for your family is find a good shower curtain and make sure to clean it on a regular basis to prevent the growth of mold. Non-PVC shower curtains include: cotton, polyester, hemp, and PEVA or EVA.
Save