Unique Shower Curtains
Can Unique Shower Curtains Change Your Bathroom Look and Feel?
If you are a discerning homemaker and take pride in your home, you probably want to make sure that all your decor is as distinctive as possible reflecting your tastes and individuality. But can you really have unique shower curtains as well?
Well, it is not so difficult to find many that match your bathroom décor or personal taste. There is a growing range of curtains available on the market as people become more particular about every aspect of how their homes look and feel.
The selections go from those for children with their favorite cartoon characters to sophisticated designer ones that match the exclusive designs of your home. There are many avenues to acquire them, as well as, a diversity of colors, patterns and sizes.
But if you wanted really personalized shower curtains, there are services available where you can design your own. You can upload your own design, theme, photo or anything else that appeals to you to create your very own personal curtains that no one else will have. You can pick the exact size and colors that match your bath area!
Do You Need a Shower Curtain Change?  Is Yours Old and Dirty?

Why not get a new one!!   So if you are looking to maintain your individuality throughout your home and you thought you had to compromise on your shower curtains, you don't. There is so from which to choose, variety and methods at your fingertips to ensure that you have what you desire.
So, don't just think about having unique shower curtains, take a look at our wide variety and make a choice.  Check out the following categories of unique shower curtains:
Artistic Designer Shower Curtains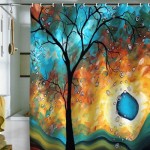 Artistic Designer Shower Curtains
These are usually abstract and or/ fine art prints that are truly unique. They make a personal statement.
White Shower Curtains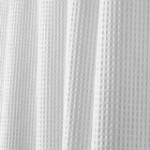 White Shower Curtains can add elegance, whimsy or traditional style to your bathroom.
Themed Shower Curtains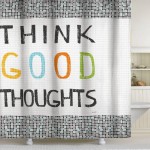 Can be simple, solid colors with minimal designs to create  a more refined and sophisticated effect. Or there are some that are more colorful, funky styles and graphic designs.
Kids Shower Curtains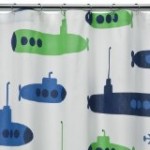 These styles are fun for the children to gaze upon. They are comprised of geometric, floral, animals, trees, nature, movie characters, and game patterns.
Vinyl Shower Curtains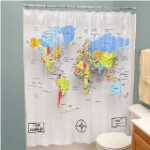 You may not be an interior designer, but you enjoy designing what makes your home truly different. This why you made the decision to dress up your bathroom for you and your visitors.
Most everyone loves to impress our friends or family every time they stay at our home so, we personalize or customize as much as we can.
Specialty shower curtains can be purchased to match a special occasion or event. Some of them are meant to be used for Christmas, Halloween, Valentines Day or any holiday.
Some are personalized with prints of your favorite tv personality or even cartoon characters. These may also come with illusions or silhouettes.
Cool Shower Curtains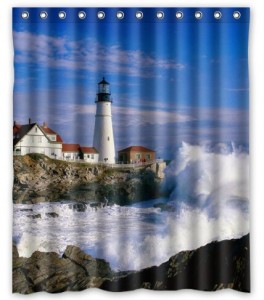 These are shower curtains that depict your cool, fun and funky side.
There are many colors, photos and fabrics from which to select.
Save
Save
Save
Save
Save
Save
Save
Save